Home
>
Table of Contents
>Chapter 8
First
Previous
Next
Last
The Myth about Chinese Leftist Cinema
Zhiwei Xiao
Images
Chapter Sample
Figure 8.2
A film's meaning is often defined less by its supposed "intrinsic" qualities than by the circumstance under which it is viewed. To take an example from American film: from the 1910s through the 1960s many Asian characters were played by white actors in "yellow face." While certainly viewed as offensive by most Asians and minority audiences at the time, the majority of white film viewers were generally unperturbed by these highly stereotypical and degrading portrayals of Asians; today we are immediately struck by the obvious racial prejudice of such images (Figure 8.1 below and Figure 8.2). The issues in Chinese film history are, as we will see in this essay, quite different; but the central point, that the context in which a film is viewed is often even more important than its intrinsic content—that audience reception is often as important as image production—lies at the crux of this chapter. A distinction must be made between what films meant to their audiences at the time of initial release and what their future viewers read into them in later years, for these interpretations are often divorced from the experience of the moviegoers of the past.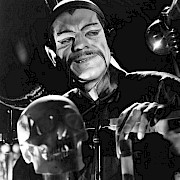 Figure 8.1
I argue in this chapter that the labeling of a large number of 1930s Chinese films as "leftist" in current Chinese film historiography distorts historical reality. By projecting an unambiguous political reading onto these films, the label ignores the complexity of the relationship between the Chinese film industry and the Nationalist (GMD) government, disregards the political context in which these films were made, and excludes other interpretative possibilities. As I will show: 1) the so-called leftist films were often consistent with the Nationalist government's policies; 2) indeed, if there was an oppositional thrust in these films, that thrust had more to do with shifting political circumstances than with any conscious "leftist" positioning of the filmmakers and 3) the myth about leftist cinema was manufactured in post-1949 China by a group of people to serve their own political agenda rather than for historical accuracy. All three of these points highlight that the changing context of reception, not the intrinsic content of the celluloid images themselves, has played a primary role in shaping how many Republican-era Chinese films have been understood.
Further Reading
Berry, Chris, "Chinese left cinema in the 1930s: Poisonous weeds or national treasures" in Jump Cut 34 (March, 1989): 87-94.
Lee, Leo Ou-fan. "The Urban Milieu of Shanghai Cinema, 1930-40: Some Explorations of Film
Audience, Film culture, and Narrative Conventions." In Yingjin Zhang, ed., Cinema and Urban
Culture in Shanghai, 1922-1943, Stanford: Stanford University Press, 1999, 74-96.
Ma, Ning, "The Textual and Critical Difference of Being Radical: Reconstructing Chinese Leftist Films of the 1930s," Wide Angle 11, no. 2 (1989): 22-31.
Pang, Lai-kwan, Building a New China in Cinema: The Chinese Left-Wing Cinema Movement, 1932-1937, Rowman & Littlefield Publishers, 2002.
Pickowicz, Paul G., "The Theme of Spiritual Pollution in Chinese Films of the 1930s" in Modern China, 17, no. 1 (Jan., 1991): 38-75.
Pickowicz, Paul. "Melodramatic Representation and the 'May Fourth' Tradition of Chinese Cinema." In Ellen Widmer and David Wang, eds., From May Fourth to June Fourth: Fiction and Film in Twentieth-Century China, Cambridge: Harvard University Press, 1993, pp. 295-326.
Shen, Vivian, The origins of left-wing cinema in China, 1932-37, New York: Routledge, 2005.
Study Questions
1. What was the historical circumstance under which the issue of "leftist cinema" emerged? To what extent does the discourse about leftist cinema reflect the political and ideological antagonism between the Nationalists and the Communists, and to what extent does it reflect power struggles and factionalism within each of those parties?
2. Based on the cases discussed in this chapter, how was/ is a film identified as "leftist?" Is the intrinsic quality of a given film (thematic orientation, subject matter, and use of political vocabularies) or the filmmaker's political affiliation more important in a film being viewed as leftist? What should we make of the fact that the Nationalist government in the 1930s gave official endorsement and approval to a large number of films that are regarded today as leftist classics in Communist film historiography?
3. What explains the fact that the label "leftist film" has been applied to more and more films from the 1930s in post-1949 China? In what ways has the teleological reading of films from the past distorted our understanding of the so-called leftist cinema movement?
4. Find a film discussed in this chapter on the Internet (many of them can be found in their entirety on the Internet, occasionally with English subtitles on Youtube or at https://archive.org/).
Can you find scenes, images or dialogue in the films that could be interpreted as conveying sympathy with Chinese Communist Party ideologies from the 1930s? What about ones that convey support for the Nationalist GMD government? What about explicit expressions of support for the CCP or explicit criticisms of the GMD? What about expressions of national pride that have no direct connection to Party affiliations?
Recall also that censors in the 1920s and 1930s also focused on other issues like superstition and sex. Can you find scenes, images or dialogue that convey sensitivity to key issues like: Modern ideas about science, public health and proper modern hygiene? The rejection of superstition? Expressions of sexuality?